The saying different strokes for different folks recently played out in Nigeria's entertainment sector as veteran actress, Margaret Bandele Olayinka, commonly known as Iya Gbonkan in Nollywood movies, appealed to her fans to get her a car.
The 64-year-old, who appears majorly in Yoruba movies, stated that despite having been in the industry for decades, she does not own a car.
In a viral video, the seasoned actress claimed she had been taking buses to her destination every day.
"I have been acting for decades yet I don't have a car. I jump on buses every day. If I die now, you will kill a cow. Celebrate me now that I am alive. I need a car from my fans. One person can even give me four cars. What is it? Now that I am alive, help me. Whatever that is good for me, please do it now," she said in Yoruba.
Ned Nwoko: Yvonne Jegede breaks silence on 'secret wedding'
I'm scared of my wife – Seun Kuti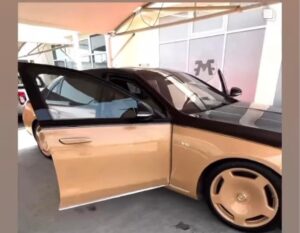 Iya Gbonkan is predominantly known for her scary facial expression.
Meanwhile just about the time news of the actress' appeal hit the internet, stories of the latest wonder on wheels of award-winning singer, David Adeleke, better known as Davido, started circulating on social media.
In an Instagram post, Davido announced that his Maybach S-Class S680 V12 valued at $600,000, N387.6 million, (at CBN's current N631 exchange rate), had arrived.
He posted a short video of the car being flown into the country and captioned it "My baby flew in safe."
The video also captured the moment the vehicle landed in Nigeria and how it was parked in what passed for as the singer's garage which had other exotic cars.